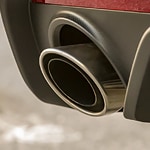 If you are looking for top performance, then you want to see what the popular Ford Mustang has to offer. This is the sports car that makes top speed affordable for just about anyone. Here are some available performance features on this year's Mustang.
With the available Launch Control System, you can make your Mustang accelerate from zero faster than ever. This system integrates the vehicle's brakes, traction, and powertrain to give you incredible acceleration from the get-go.
When you want to have the ultimate control over your Mustang's exhaust, then get the class-exclusive Active Value Performance Exhaust. This system allows you to control how loud or how quiet you want your Mustang's exhaust to sound.
See everything that this current Ford Mustang has to offer. We have an incredible selection of brand-new Mustangs available at Arceneaux Ford. Visit our showroom, take a test drive, and get an incredible deal today.